HAYSTACKS BALBOA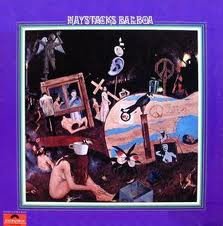 Mark Polott e-mail interview by James Holbrook
The album that Haystacks Balboa released in 1970 has been deeply embedded in my consciousness for a significant proportion of my life. Through myspace, I met Mark Polott a few years ago, and he very kindly agreed to answer some questions that I have always wanted to ask. What follows is an interview compiled from some emails we exchanged:
JH: It's really exciting for me to be to be able to ask you these questions about Haystacks Balboa. I remember when I bought the album I was about 14 years old and already an obsessive collector of rock music from the 60s and 70s. As soon as I picked up the album in a shop in the north lanes in Brighton and saw the sleeve I knew I had to hear it. I got a sealed German pressing and from the moment I got it home and the needle touched the vinyl it cast a still unbroken spell. Over the years I have worn out my copy. 'The Silken Men', 'Auburn Queen' and the 'Children of Heaven' have buried themselves deep inside who I am and 'Riverland' has always been a beautiful end to a journey that still moves me with each repeated play
If there is one song out of the 1000s and 1000s I have heard through the years that I have listened to music that had a biggest influence than any other, it is 'the Silken Men'. It still gives me goosebumps to hear the moment when the middle interlude ends and the vocal comes back in.
I've lived for more than half my life with your music while knowing very little about the people who made it and I'm excited to know how the music came to be.
What follows are the questions I have always wondered about.
Who were the band members?
MP: Mark Mayo guitar Mark Polott bass Lloyd Landesman keyboards
Mark Babani drums Bruce Scott vocals
JH: How did you meet?
MP: Mayo, Babani and Landesman played in the Tangerine Puppets at Forest Hills High School in Queens, NY .They broke up and Landesman joined me in the Innovation Umbrella, my guitarist, Richie Dimedia also went to Forest Hills. We broke up and Lloyd returned to a new band with Mayo and Babani and brought me in as the bass player. We rehearsed the whole summer of 1970 in Babani's basement. We did a demo at Charles Lane Studios and brought it to Shelly Finkel, the manager of Mountain. He signed us. Our singer, Larry Goodman, quit right before we started to record our album , too much pressure, maybe. We found Bruce Scott and did our album. We signed with Premier Talent and then jumped to ATI, so we toured with the top bands of the era. We were mostly 19 years old, except for Bruce who was 26, maybe…
JH: Where did the band's name come from?
MP: Back in the 60's there was a 400 pound wrestler named Haystacks Calhoun. Mark Mayo hung around with a great local band called the Vagrants, Leslie West (Mountain) was the guitarist. One of the Vagrants friends, Bobby Pace, coined the phrase Haystacks Balboa, probably in reference to Mayo's large size at the time. He and Leslie were "look alikes" and people always compared them…similar look and guitar style, and they were often together. So, when we looked for a name, in that drug infused era, Haystacks Balboa jumped out at us. This is how I remember it.
JH: What where your influences?
MP: Cream, Jeff Beck, Blues Project, Mountain, all the great guitarists of the time and Keith Emerson.
JH: How did you write the songs?
MP: We got together and wrote. Sometimes Mayo and Landesman, sometimes me and Mayo. Mayo's sister wrote some lyrics and Larry West, Leslie's brother wrote some riffs. He was never really in the band but jammed with the guys before I formally joined.
JH: How long did they take to write?
MP: A day or two, each tune. We jammed for hours and got ideas. It was summer, no school, we played a lot.
JH: How often did you play live?
MP: We had a good manager and agent so we got great gigs and had high exposure once the album was out. We played most weekends and would drive to Detroit, Chicago, Boston, etc. as soon as classes were over. The album came out in September 1970 so we were in college but taking a light load of courses.
JH: What bands did you play with when you played live?
MP: Ten Years After, Jethro Tull, Savoy Brown, Faces with Rod Stewart for about 8 weekends, Mungo Jerry, Black Sabbath, Eric Burdon and War, Cactus…just to name a few
JH: How did you come to be produced by Shadow Morton?, what was his input as producer?
MP: Shelly knew him and he came out of retirement to do us. He wanted the cash to buy an Excalibur and we had good backing, until the record came out. Then our manager concentrated on his other new band, Hammer, and we were left out there on the road alone.
JH: Who designed the album sleeve?
MP: While being photographed for the back cover by David Hoffs (I think) we saw a painting of his in his studio and we instantly knew this should be our cover…very Hieronymous Bosch, like our music.
JH: How many songs did you write for the albums and were some unrecorded?
MP: Ironically, none of the songs from our original demo were rerecorded for the album and they were pretty good. We did play them live. Why? Who knows…
JH: Do you still have the original demo, or remember the songs you recorded on it?
MP: Thats a tough one…
1.Bobby Lemonade
2. Balls
3. One other that escapes me
JH: Do you ever or would you ever play any Haystacks Balboa songs again?
MP: We sometimes launch into something, spontaneosly, at a rehearsal. It's been a long time but we remember a lot for old guys.
It's all good memories. One irony is that many web sites portray us as an English band, even calling us "another British Boogie Band" which we clearly weren't. We listened to the great British bands of the 60's and were very influenced by Cream, Jeff Beck, Zeppelin, and others, but we tried to forge our own sound. I must admit, now, we were usually "under the influence" of the various drugs of the era, but we were always under control and attacking things from an intellectual angle. We also always tried to really play our instruments and although it is not overly apparent on the album, at the time we were one of the better musician bands in the local scene in NYC. We studied, and played countless hours. Our image was always secondary to our chops and this probably hurt us in the long run.
JH: What happened to the members after Haystacks Balboa?
MP: Me and Mayo stayed together through many projects. Lloyd left to pursue his own interests and played with Clarence Clemons, Edgar Winter and then , and now, is a successful Jingle writer. Babani left the business to be a cook out West but resurface for a while with a band made up of him and his kids -L'iL Willie. They were signed by Doc McGee and toured with Lynard Skynard but it didn't last. Bruce became an agent, we've lost touch after he screwed us on some commissions.
Joe Franco from the Good Rats was in Haystacks for awhile. After the end of the tour, Joe joined the band, around 1971? He actually got good with us, he started studying with Carmine Appice and our serious approach inspired him. He left us to join the Good Rats as they had a lot of gigs. He played again in our group, Blue Lagoon, in the late 90's. He had 2 kids and didn't want to travel ], we were a perfect fit for him. We are still very close. He went to the Cream reunion show with me and Mayo and Lloyd last year. He runs a very successful recording studio in NYC and plays occasionally with Dee Snider in projects.
JH: What's your thoughts on the pirate re-issue (there should be a proper re-mastered CD of this truly great album album)?
MP: We figure it's better to let the music live on than to litigate. The pirate keeps the band alive and it must sell because it is all over the internet. Long live HB!
JH: Who are the Silken Men?
MP: Mythical Warriors. We loved the epic form and production. Remember, this was an era of heavy drug use and good headphones!
JH: What are the Children of Heaven doing now?
MP: Our children are in college or working, none in music. They've all thrown their dollies away…
My pleasure to respond. Stay in Touch.
Mark
JH: thanks again for taking the time to remember a fascinating past.
James
If you want to hear the music that Mark Polott and Mark Mayo are making today, then go and have a look at these myspace sites:
http://www.myspace.com/urbanblue
http://www.myspace.com/markpolott