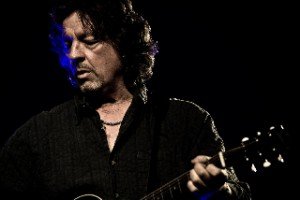 Indiana born, California raised and now resident in Texas, Dirk Hamilton is one of the world's great songwriter poets.
A professional musician since the age of 15, Dirk played with a number of local Sacramento bands and was a regular in the San Francisco bay area club scene before moving to Los Angeles in the mid-70s.
Having heard a few demo tracks, Gary Katz (producer of all Steely Dan's albums up and including 'Gaucho') instantly decided to produce Dirk's first album 'You can sing on the left or bark on the right'
Critically acclaimed, with a unique writing and singing style, compared to Dylan and Van Morrison, a powerful new songwriter had emerged on the music scene.
'Alias i', a second album for ABC, saw a rising star continuing to share his left field view of the world, at once tender, cynical and funny.
After ABC folded, Dirk moved to Elektra Asylum for his 2 masterpieces 'Meet Me at the Crux' (heralded by Rolling Stone as one of the essential albums of the 70s) and 'Thug of Love'. It was only a matter of time until Dirk Hamilton would be established in the canon of rock's revered singer/songwriters. But it wasn't to happen.
During a tour supporting Warren Zevon, loose talk about Zevon's stage act from members of Dirk's band got back to Zevon, who then had Hamilton's band thrown off the tour. Following this, Dirk was dropped by Elektra.
Never being one to enjoy the business side of playing music, losing industry support at this key time in his ascent through the big leagues led Dirk to decide he didn't have the stomach to play the industry game anymore. He turned his back on music entirely and didn't sing, play or write a word for about 4 years, one of which was spent sitting in The Shamrock, a bar in Stockton, California and 3 of which he worked as a counselor for troubled teens. Mid-way through Dirk's counselor years he began playing in a cover band and soon he found that new songs were coming to him and he started writing again. In 1986 the Stockton version of The Dirk Hamilton Band was formed and they played up and down the California coast until the late 80s, when Dirk discovered he had a devoted fan base in Italy and the last 20-plus years have been split between Italian tours, US shows and recording albums, which now total 16.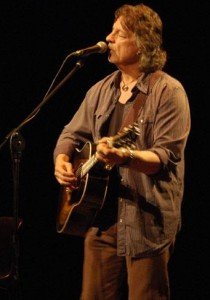 Dirk Hamilton only grows more powerful as a songwriter and performer of engaging, offbeat, literate songs.
Below you can watch some performances of songs written at various periods in Dirk's career, both with his American and Italian bands and solo:

When good men do nothing

Come with Me

Alias i

Turn off the TV
Rich Man Blues (preceded by interview)